here we are.. still in san diego. working on the boat. i read a lot about people who said they got stucked in a certain place working on their boat and the only way to get out is to set a deadline and lift your anchor without caring about anything!
we can´t do this because we´re waiting for the welder to finish his work on our radar arch. we put a lot of dollares in this so we cant set our sails without having it on the boat! but i hope we can finish the work this week (hopefully tuesday or latest wednesday) and go south.
but if we do so we did a lot more than planed. we replaced ALL standing rigging, all batteries, all wiring between the batteries and the main panel, cleaned the fuel tanks, put fuel senders in, added a vessel status monitor to the boat which gives us all infomation about the batterie status, the tank levels (Water isn´t installed yet), rebuild the alternator and the starter, painted the nameplates and put the new boat lettering on, we bought heaps of stuff to work on the boat in the future like rail tubing, self tailing winches, blocks and ropes and shackles and and and…
we bought a used stainless steel radar arch in florida, shipped it to san sdiego and let it been rebuild to fit our boat. (actually we´re still working on this) So we can put the brand new solar panels on top of it and use it as dinghy davits underneath.
until this point it sounds like we´re not having fun or vacations…
but we had a couple of days in mission bay to celebrate the new years eve in the coaster bar with some crazy but very nice local people, had some surf and did nothing except.. vacation stuff!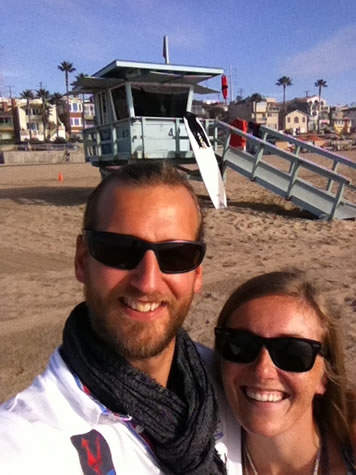 Last weekend we drove up to LA (thanks for the car jack!!!) initiated by the need to buy and pick up some selftailing winches which were located close to LA, we took 2 days off and explored the DREAMFACTORY. And of course we went to venice beach, walked.. YES WE WALKED!!! all the way up from muscle beach to santa monica pier AND back. drove through hollywood village up to the hollywood sign, walked the walk of fame up and down and where eyewitnesses to people queuing up at the clubs like you can see in the movies. After walking and walking we decided to pretend we´re americans and drove the whole sunset boulevard down (actually the numbers were rising) to pacific highway which leads to malibu. Imagine you were driving along a street and the housenumbers are around 28450..? but anyway.. we found a nice carpark at the beach ad slept in the trunk of jacks car.
NEXT MORNING i found very nice clean waves to ride on. So i took my board (which, to be on the safe side, i brought with me) and woke myself up with a nice ocean bath. After this we had a stop at starbucks to make Rebecca happy too. – fair enough!!
now we are back in san diego and enjoy the silence of beeing located just between the international airport, the coastguard heli and vessel port and the omnipresent US Navy. not to mention the firefighters, police and whoever is allowed to have a siren on his carroof!!!
Time to go south!!!
(Visited 104 times, 1 visits today)