Over a week has gone and we still work on the boat. We changed the whole electric wiring from the batteries to the main bus bar. During this we added 2 more 8D batteries to our house bank, put batterie switches in the proper order and got the battery-system running. We serviced our alternator (which means we let it be rebuild and put a new regulator on it). After we put the alternator out we had a clear view towards the starter. So we put it out and renewed the solenoid. After that we put it all back where it used to be and wired it together as it should be!! Whoever the installtion on this boat did, please don´t do it again!! You can´t change wire colours just because you need to add a few feet to a wire and take some black instead of red wire!!! AND PLEASE!!! Don´t put negative wires to a positiv bus bar!!!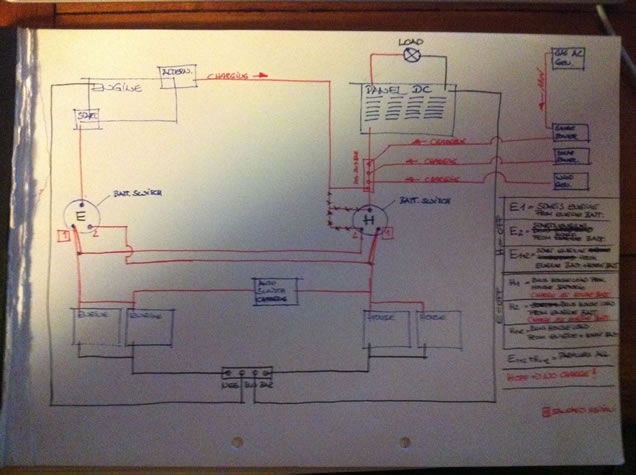 but..
the Engine ist running good! The starter works properly and the alternator put around 100Amps in our batteries!!! (SMILE)
now we have 675 Ah in our house bank!
OK. lets go higher! after a couple of estimates to renew our standig rigging we decided to do it on our own. step by step!
today i went up the masts to measure the lenght of shrouds, stays, intermediates, uppers, lowers, jumpers and triangle stays. Rebecca guarded me with the hailyard. You got a wonderful view from there. So i saw the commodores burgee is up. that means the commodore is on the property. Lets finish work and change burgees withh the commodore.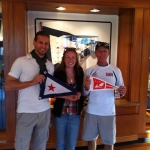 Off we went.
We found him in front of his car. A 1940 woodie with a wooden surfboard on top. He just came back from sailing in the bay and we changed burgees in front of the lobby. Afterwards he invited us to a beer at the bar. cheers!
Thank you San Diego Yacht Club for your awesome hospitality!
Oh, by the way: we fought against termites and it looks like we win!!!
(Visited 135 times, 1 visits today)